Good news: you've been promoted at work. Bad news: your new job requires you to live in a different city. If you're reading this, chances are you've just received notice of an unexpected relocation. Whether it's a new job opportunity or whatever essential reason, it's vital to get your affairs in order so you can start fresh on the other side. But how can you make this go smoothly when time isn't on your side? Relax. The key to pulling off a last-minute move is planning ahead and getting on top of things as quickly as possible. Below are some tips that'll surely come in handy!
Look For a Mover First
With time against you, you're going to need every help you can get. And your best source of trustworthy helping hands is professional movers. Not only does a moving company take care of the heavy lifting, but they also simplify things by taking on other responsibilities regarding transportation and storage. This way, you can focus on more critical aspects of the transition, such as hopping your kids onboard or taking care of necessary paperwork for your new home.
Make Sure Your Mover is Legitimate
Most people's experiences show that those who move last minute are the most susceptible to moving scams. That's because they're in such a rush that they don't bother checking whether the professionals they hire are legit. Enticing offers of cheaper rates can also lure them in.
In the end, they either get ripped off by insane hidden fees, have some of their stuff damaged, or have their belongings stolen entirely. Sad that it happens but don't be that kind of person. You know better.
So before you make a deal with a potential mover, take the necessary steps to see if they're credible and trustworthy. You can do this by:
For local moves, ask the state or local authorities if your potential mover is registered.
Read online reviews about previous customers' experiences. Make sure you check the authenticity of the person that left a review.
Ask your friends or relatives for a referral.
Avoid common red flags, such as movers demanding a hefty deposit upfront or providing an estimate over the phone without seeing your house.
Make a Checklist
Alright. You don't have the time, but this doesn't mean you should just face the problem head-on without a strategy. It might seem a waste of time, but there's even more reason to plan things carefully with all the pressure. Start by creating a list of what needs to be done and prioritize tasks according to their urgency. Here are some useful entries to get you started:
Set a definite budget together with a realistic timeline.
Contact a local moving company.
Write down a quick inventory of your home
Pack and label boxes.
Transfer utilities and address.
Settle everything in your old place (debts, events, meetings, etc.)
Downsize as Much as You Can
When moving last-minute, you won't have the luxury of packing lots of stuff. In fact, you'll have to leave the majority of your belongings behind. This means going through your home and getting rid of anything that's not essential or can be easily replaced at your new place. A general rule of thumb for downsizing is to ditch duplicate items and those you haven't used in the last six months. For your extra stuff, you can either donate them or sell them online for quick riddance.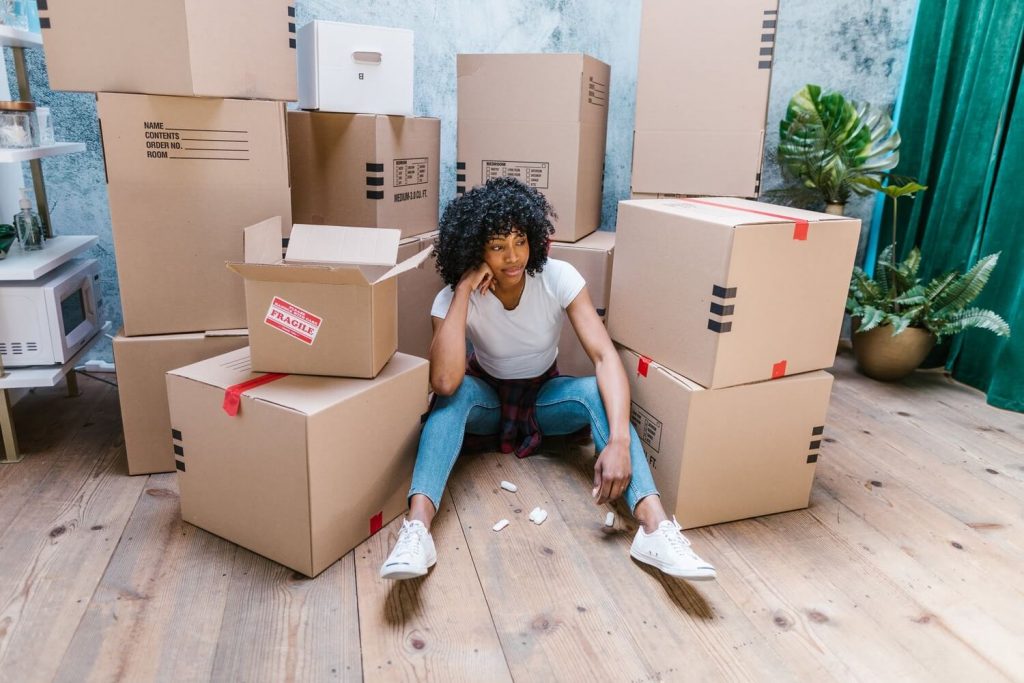 Don't Bother Folding Your Clothes
Folding clothes takes forever. Instead, you may want to consider using clean trash bags that will save you time and space. Just put everything in there and arrange them upon arrival. You will also want to move your dressers as is. However, it's important that you still fold formal attire and other special clothing to avoid wrinkling.
Ask for Help from Your Friends
Movers are one thing, but they can quickly get expensive. If you wish to save but still need help with the move, do not hesitate to ask your friends and family for assistance! You will be surprised how willing people are when it comes to lending a hand during tough times.
Last But Not Least, Don't Panic
No one can blame you if you're stressed or scared about such a sudden relocation. However, panicking is the last thing you need to do, as it will negatively affect your health and morale. Instead of succumbing to negative emotions, try to trust or even enjoy the process. You will need your wits about you when it comes time for the actual move, and if you're all worked up beforehand, there is no way that things are going to go smoothly.
So just take a deep breath! Everything will be over, and you're just going to laugh as you look back into this moment of your life.